In association with

Sepsis is a life threatening condition that arises when the body's response to an infection becomes uncontrolled and injures its own tissues and organs. Sepsis can lead to shock, multiple organ failure and death if not recognised early and treated effectively. Fixing sepsis is a multi-disciplinary responsibility because sepsis crosses boundaries.
The Sepsis Game brings staff together and improves their ability to recognise and manage sepsis. We developed the game with the UK Sepsis Trust and NHS England to support their educational programmes to improve knowledge and management of sepsis and so improve patient safety.

The Sepsis Game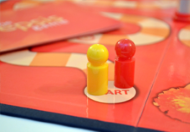 The box contains everything you need to run a successful training session. Each game contains a pack of scenario cards designed to stimulate discussions that raise awareness and improve care delivery skills. The scenarios and questions vary in complexity which allows you to structure games that meet the needs of each group. Just pop it in your bag for team meetings, study days, workshops, lunch meetings and events.
How to play
The game is designed for between 2 and 12 players divided into two competing teams. It takes around 45 minutes to play and can be used in any care setting; all you need is a table and some chairs. The rules are very simple and the facilitator doesn't need sepsis expertise. The game is essentially self-regulating and the facilitator can take a passive role in the game.

Online game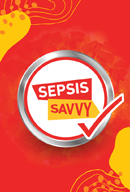 We've created a simplified digital version of the game.
It works on any device through a web browser and it's free to use. It only takes a few minutes to play. Why not try it now?
Play Now
Topics covered in the game include:
Prevalence and impact of sepsis
Causes of sepsis
Recognising sepsis
Treatment (including Sepsis Six)
What to do when sepsis is suspected